Kasim Javed says his firm is aiming to build its portfolio and partnerships in a challenging environment
Kasim Javed isn't the biggest fan of products from China at the moment. The Rochdale-based trader, who runs used-phone site I Need A Mobile, says Europe is being inundated with cheap kit from there.
"Since China has become a significant global economic player, there is more supply coming from East Asia and creating more competition in other parts of the world," he says.
"People are flooding the European market with smartphones from China. This has subsequently increased competition in the second-hand phone industry."
Javed also blames tougher trading conditions for currency shocks caused by the Brexit situation since the 2016 referendum.
These, he says, have intensified European competition to exploit market prices by a weakening pound.
"When the pound is weaker, the Europeans want to buy more. And when they want to buy more, they are looking for suppliers," says Javed.
"This has developed a larger interest in suppliers from Britain and created new competition.
"We have seen a significant rise in competition in the second-hand mobile industry throughout the time we have been around."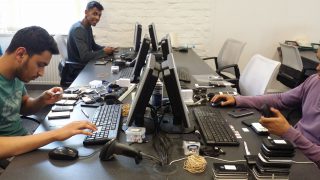 Surge in business
Javed highlights that dozens of new companies have emerged in the last decade as a result of rapid growth in the used mobile phone market.
This has affected price points for certain devices and allowed European competition to sell phones for a cheaper price.
Javed started the business while studying at the University of Liverpool in 2010. He has grown the company with the help of his three brothers, initially financing it using only £400 capital.
Javed now considers I Need A Mobile a strong family business, with his family also having several other companies including IT firm Creative Networks and marketing agency Creative Video Solutions.
In earlier roles, Javed had joined Orange in 2005 as a part-time sales associate before being headhunted by Three after less than a year.
Back in 2006, Three offered high commission incentives to its staff, enabling Javed to hone his salesmanship skills and earn a solid monthly wage while working only two days a week.
However, this soon changed. The commission-based incentives declined once Three had established a customer base and consolidated its place as a top mobile network, prompting Javed to look for other sources of income.
"At that point, I needed extra cash to pay my university fees," says Javed. "So I began trading second-hand phones and decided to launch my first company, Money For Your Phone, in 2010 [which later became I Need A Mobile]."
He explains: "I already had an interest in phones and started to list devices including models from Samsung and HTC on the Money For Your Phone website. All of a sudden, I had hundreds of people sending their phones to me in the post."
After Money For Your Phone rebranded into I Need A Mobile, Javed struggled to find the opportunity to really get his company going while he was still studying in Liverpool.
Nonetheless, that was where the seeds of the business were first sown. "I used to buy and sell phones in school," he says. "So when I was at the University of Liverpool, I thought I'd try it again."
For inspiration, Javed needed to look no further than his own family, with his father running a successful engineering company.
Ultimately, what began as a mobile phone recycling company based at Javed's university accommodation has transformed into a firm that now turns over millions of pounds a year.
Javed is also a geopolitical enthusiast and runs a YouTube channel called KJ Vids, which has grown its user base to more than 86,000 subscribers and 400,000 followers on Facebook. His primary focus, however, remains on I Need A Mobile.
Revenues
The firm experienced its best year to date in 2016, having turned over £6.9 million for the year.
The company, meanwhile, went from selling around 10,000 phones per year in its first few years of business to between 60,000 and 80,000 per year now.
Javed, who purchases devices from all over Europe, has primarily increased his business through word of mouth. After almost a decade in the industry, he has built a consumer base from all over Europe – with his main client in the region, which he didn't name, ordering around 2,000 units per month.
Yet despite having a solid European presence, I Need A Mobile continues to conduct most of its business from its head office in Rochdale.
"We bought phones from the UK to sell abroad using our own capital, and that's how we grew the business to the level that it's at today," says Javed.
"In Europe, there was high demand for phones from the likes of Nokia and BlackBerry because they were flourishing at the time.
Through that demand, we were able to develop relationships with companies in Italy, France, Germany and Portugal."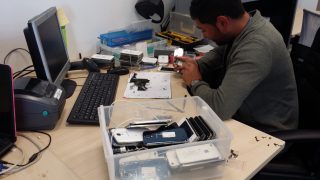 External Factors
Unfortunately, says Javed, external factors such as the rise of China as an economic superpower and Brexit have contributed to the company's turnover slumping from its 2016 high to £5.2 million in 2017 and £3.8 million in 2018.
I Need A Mobile was also hurt by Amazon's decision to let only official Apple-authorised resellers on its site to sell Apple products.
Javed has applied to Amazon several times to be an authorised iPhone reseller, but was denied by the tech giants, which he said claimed there were too many applications to consider.
The company has therefore sought to identify ways to overcome the hurdles it has faced. For one thing, Javed has expanded the company's range of devices, with the portfolio now featuring more models that have become increasingly popular aside from iPhones.
"We diversified the models we offer," he says. "From selling mostly iPhones, we have built a strong client base for Samsung and Huawei devices, and now even sell OnePlus models."
Javed explains that iPhones were initially all the rage for a few years after he started the business – and as the popularity of the devices increased, so did the amount of second-hand dealers selling them.
But with an increasing number of second-hand dealers and the rise in popularity of other vendors, consumer demands began to change. At that point, it made sense for the company to start offering a more diversified range of phones.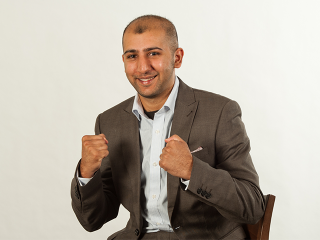 Web Sales 
Javed also decided to place more emphasis on his website, www.ineedamobile.com, stepping up retail efforts from that side to help boost sales.
He explains that doing this helped the company to "weather the storm of market fluctuations".
After a challenging period, Javed says I Need A Mobile is aiming to double its annual turnover. To do this, there is a need to increase the company's working capital so it can capture more market share – which Javed says is likely to need external funding that he is now seeking.
"Everything we've done now has been done through our own money," he says. "Up until now, we have built cash flow through our own capital simply by replenishing stock.
"Now is the ideal time to seek and create partnerships with other companies and businesses to thrive in a saturated industry, where innovation is required to succeed.
"Through sharing good practice, recommendations and feedback, we're running a well-oiled machine.
"Now we're looking to scale our company by working even more closely with potential industry partners and are open to collaborations and partnerships with buyers and sellers that are looking to increase market share."
Javed is also looking to expand the business in the next few years by offering other services such as testing.
He thinks, meanwhile, that if I Need A Mobile can strengthen its retail position both regionally and internationally, the company can achieve its aim of diversifying the services it offers to potential consumers.
"We want to be able to offer more B2B solutions for the telecommunications industry," he says. "If a company comes to us for a system to recycle, value and sell phones, we can help them build it".
Javed is keen to attract attention from different sectors, citing the insurance sector as a potentially huge opportunity for his business.
The company also plans to continue diversifying its product range, offering an increasing number of phone models to its customer base.
This is also expected to ultimately appeal to users in other markets outside Europe, where the company eventually plans to expand.
But it isn't just phones that I Need A Mobile plans to sell. Javed says that to further consolidate its place in the industry, the company will be strengthening online trade by adding VR headsets and wearables, which are key elements of his plans.
"We could sell a lot more, but we need more opportunities with partners to increase stock access," he says.
"We want to maximise our clients' buying potential, and to do this we must look for collaborations with suppliers."